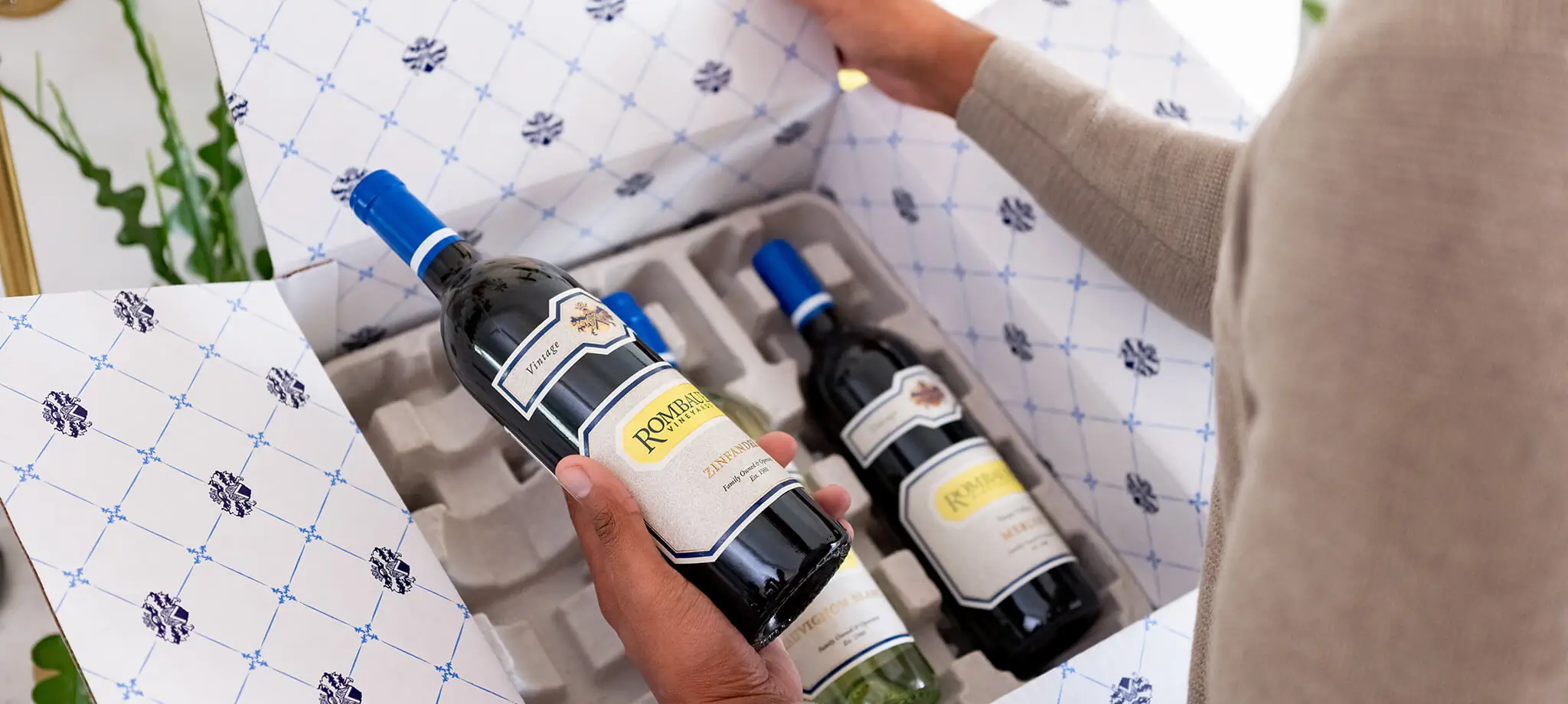 Share the Joy of Wine with those you love and appreciate!
Consider one of these Rombauer gifts to recognize, celebrate, and thank the important people in your work and life.
Looking for something different or to place a large order? We are happy to help! Please email [email protected] and a team member will soon be in touch to assist. We are committed to making your gifting process as easy as possible.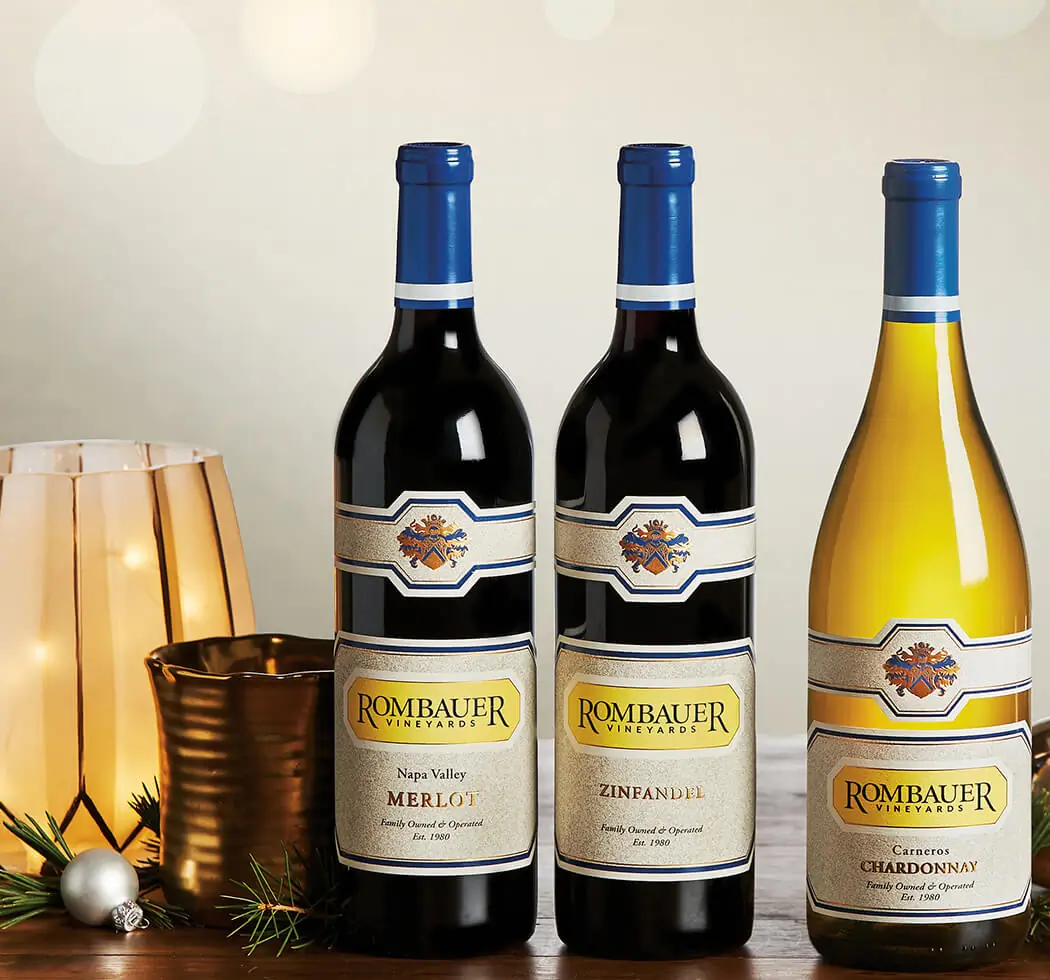 "Three Cheers" to You and this Gift Set
Make gifting easy and send this trio, featuring three of our most popular wines- our iconic Chardonnay, our favorite Merlot, and our beloved Zinfandel- all presented in a beautiful white gift box with a gold Rombauer logo.
Send this to wine lovers who appreciate all types of wines as this collection is our most versatile.
Three Cheers Gift Set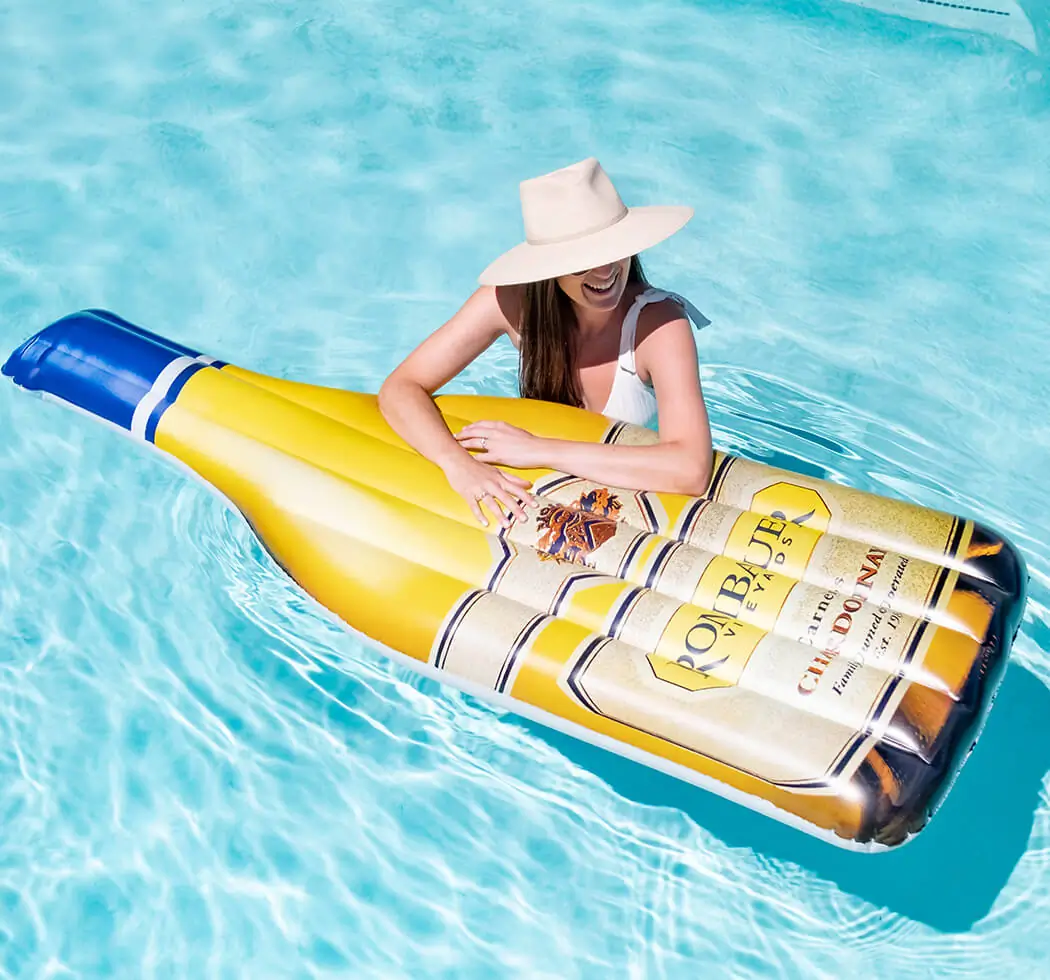 Chardonnay Pool Floatie
Yes, you read that correctly! This Chardonnay bottle pool floatie is exactly what you need to liven up your backyard days this year! Measuring 82 inches tall by 28 inches wide, this is best enjoyed with a cold glass of Chardonnay. This popular item is temporarily sold out, but please check back soon.
Float On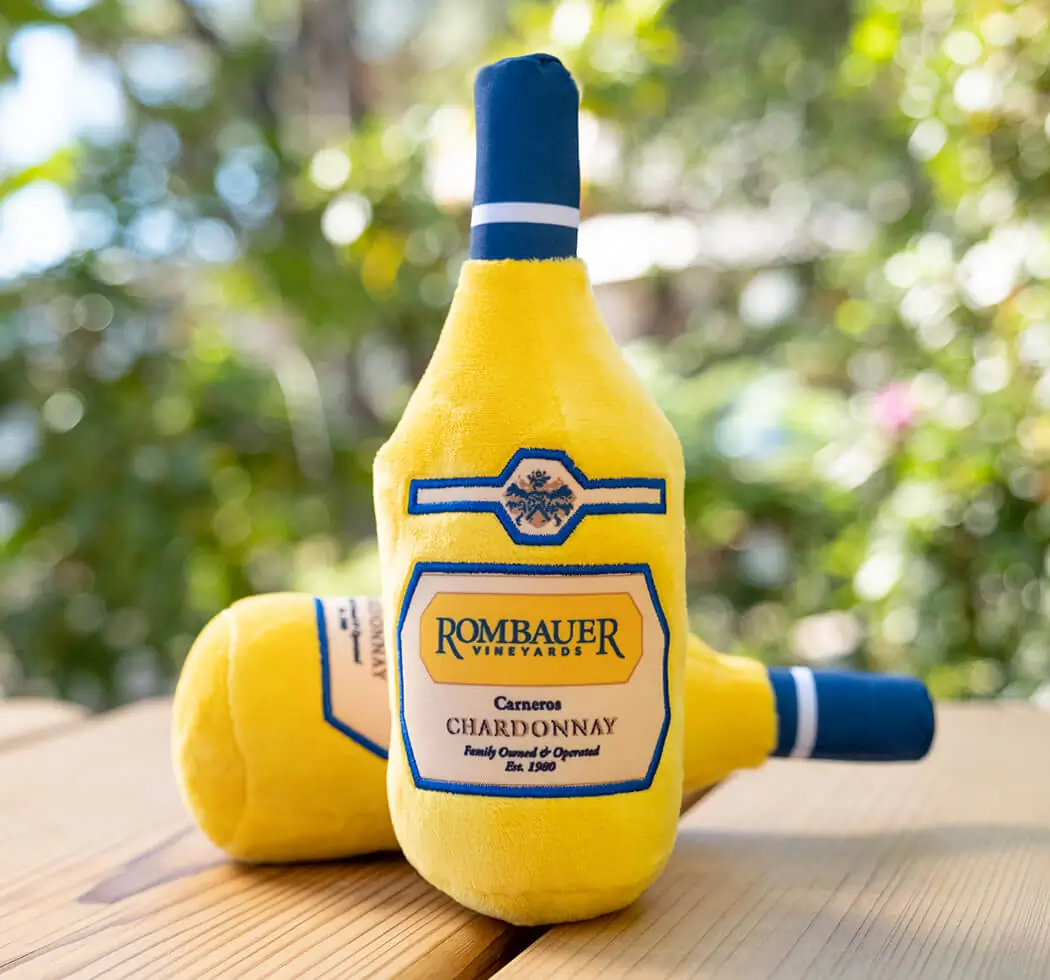 Chardonnay Dog Toy
Share Chardonnay with everyone in your household! One of our most popular gifts, this squishy, squeaky dog toy is perfect for any pup in your life.
Purchase for the Pup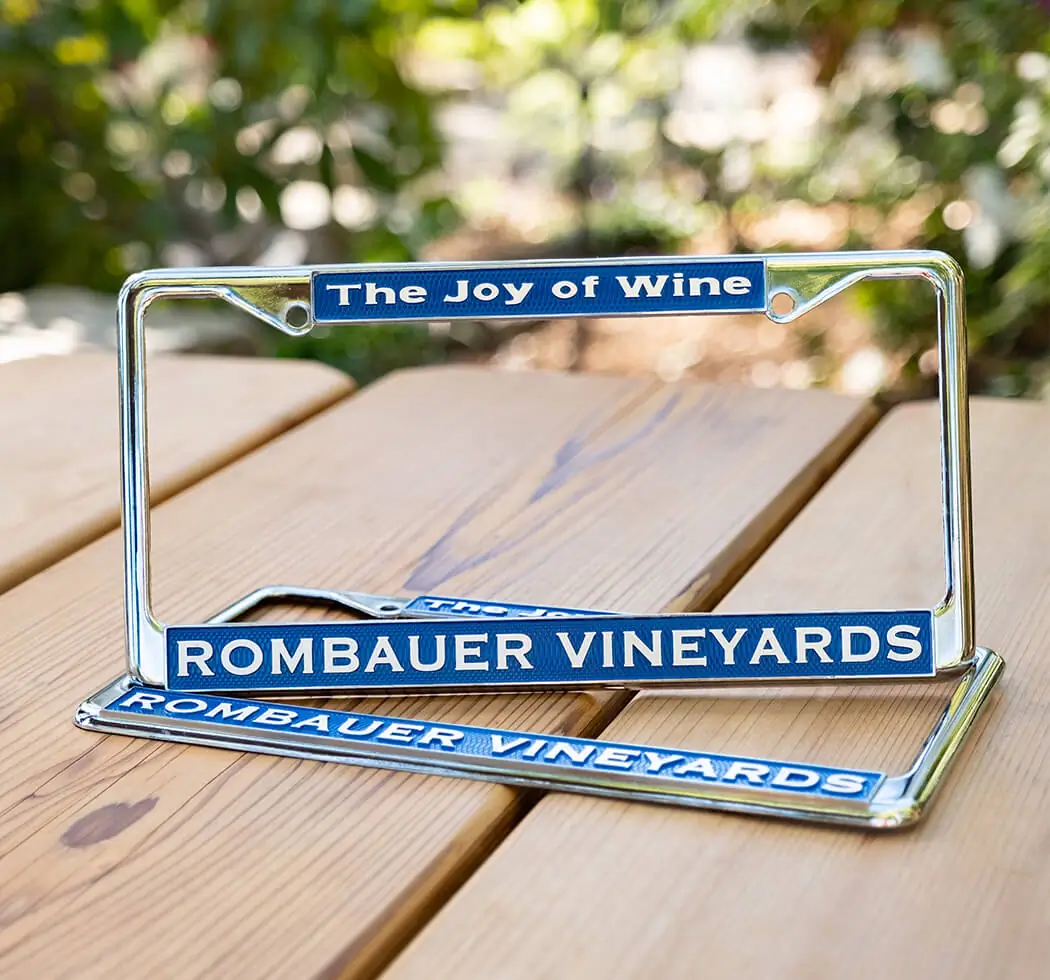 License Plate Frames
Take Rombauer Vineyards on the road! Share the Joy of Wine with the car behind you with these fun license plate frames.
Buy a License Plate Frame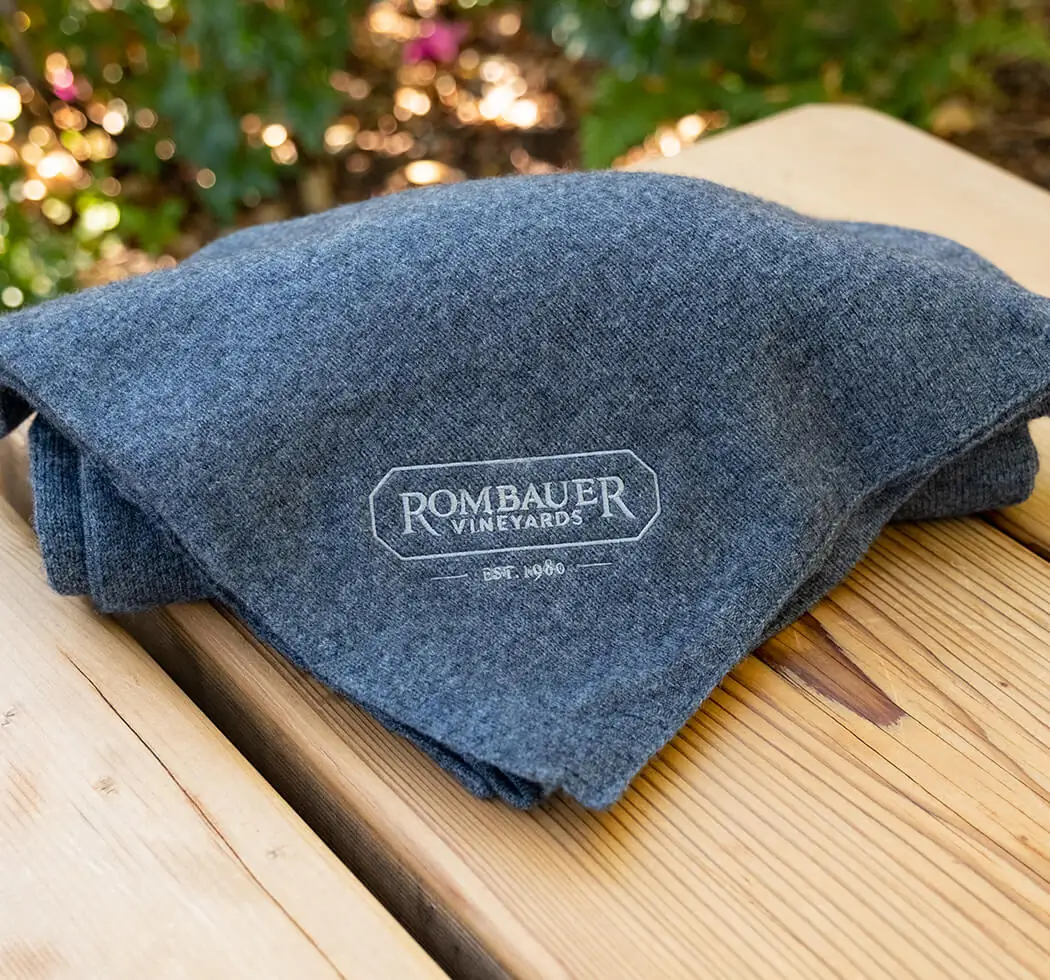 Ladies' Grey Poncho
Stay stylish in this grey cashmere women's poncho! Featuring a tone-on-tone logo in one corner, this soft poncho is light yet cozy.
Purchase the Poncho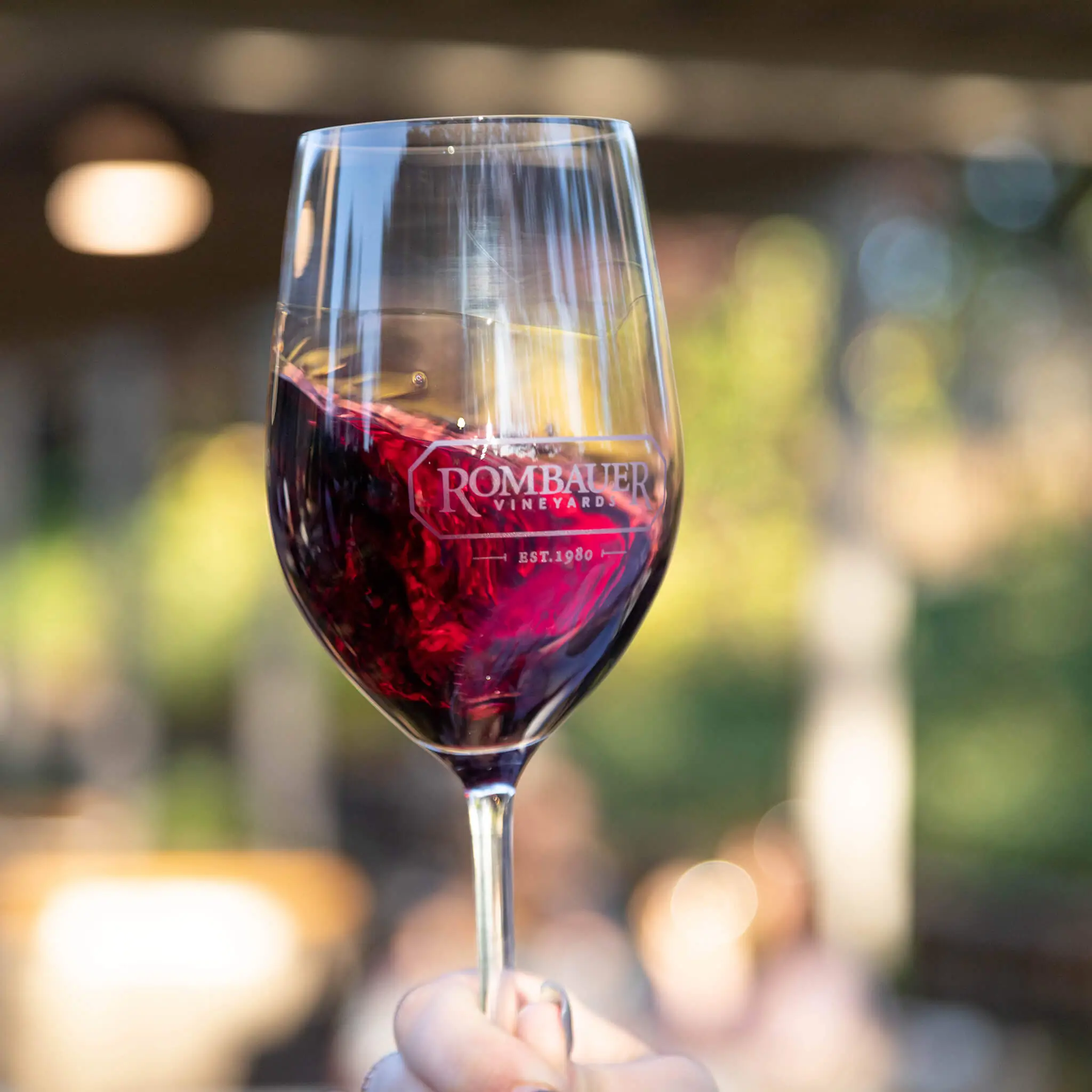 Wine Glasses with the Rombauer Logo
Enjoy this set of six Rombauer-branded glasses and sip in style! Bring the tasting room experience home as you drink from the same glasses we use at our tasting rooms.
Purchase Wine Glasses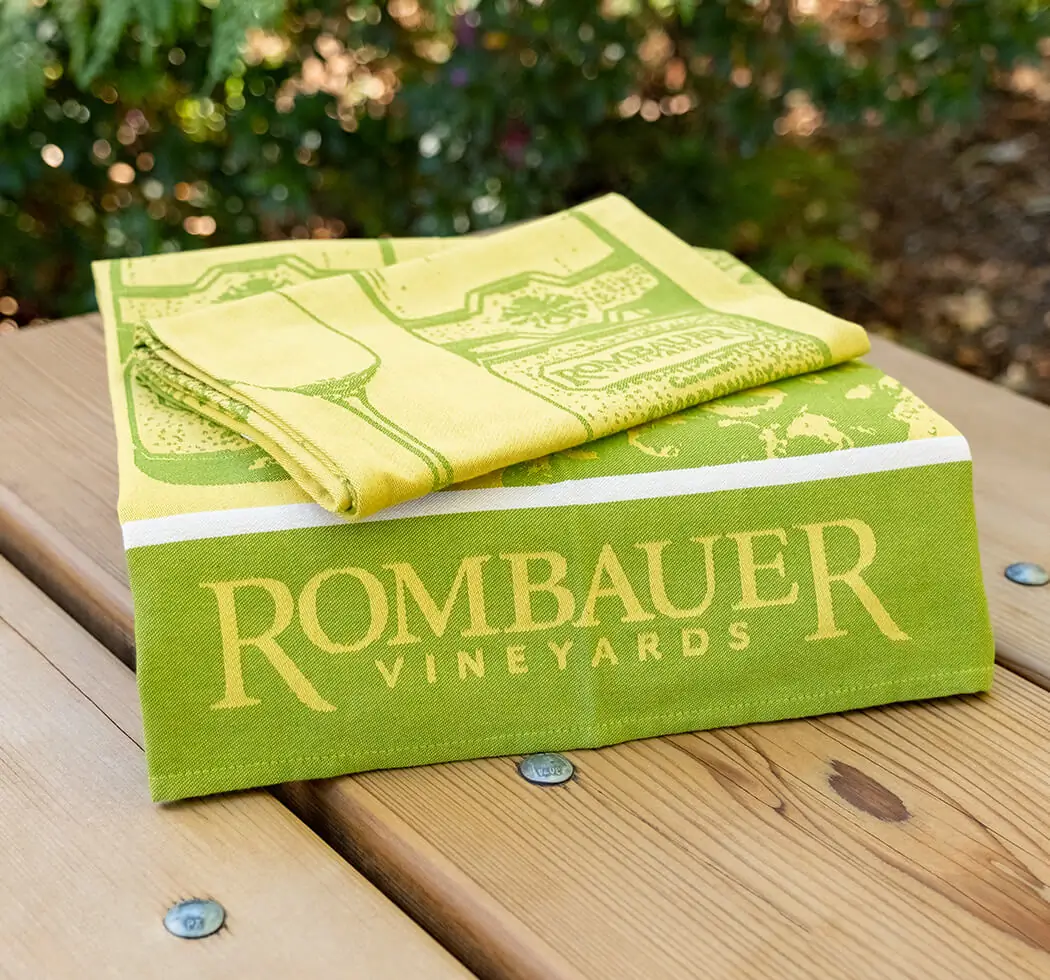 Joy of Chardonnay Tea Towel
Coming soon! With a beautiful green and yellow print, this Chardonnay-focused tea towel will look great in your kitchen or on your table. French-inspired, consider this gift for the fashionable foodie in your life.
Acquire a Tea Towel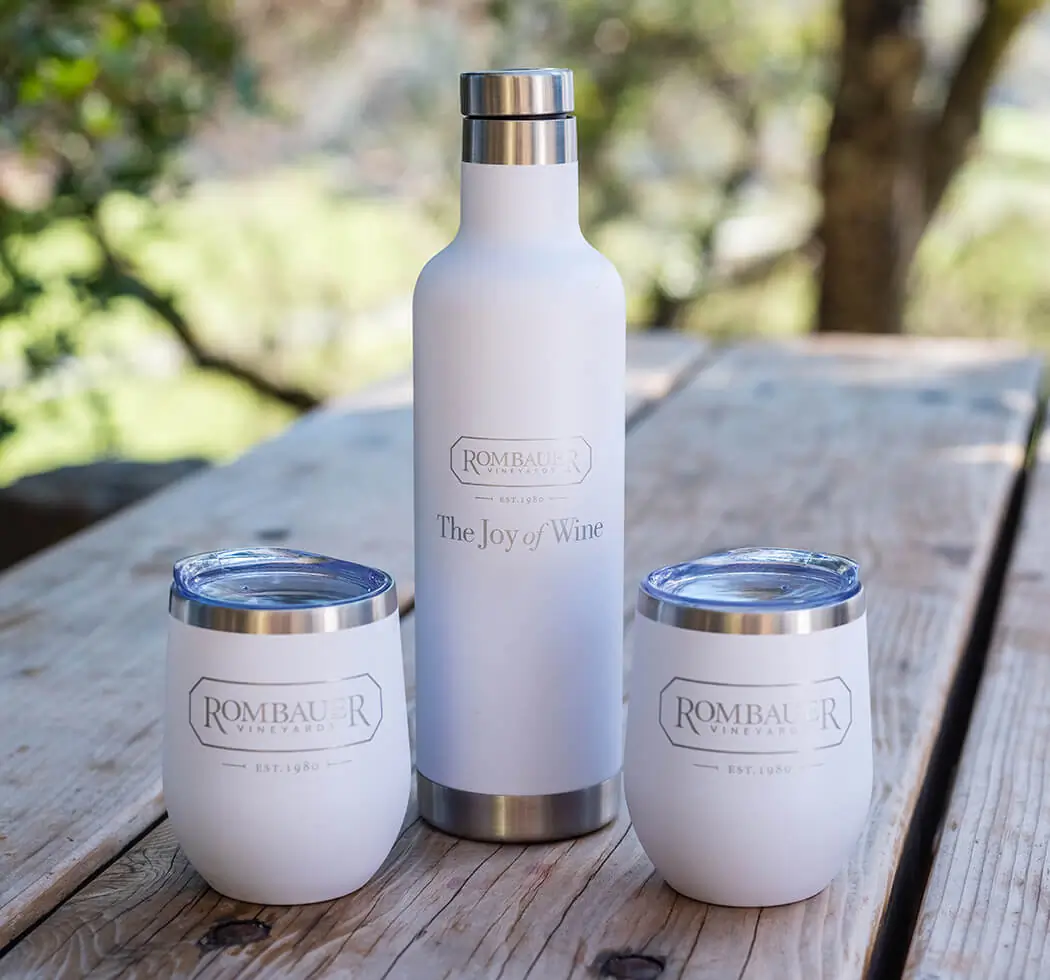 Tumbler Set
Sip in style wherever you go!
This tumbler set includes two 12-ounce white tumbler glasses and one 25-ounce white bottle. All three pieces are insulated and branded with the Rombauer logo. This makes a great gift for a loved one or yourself!
Tumbler Set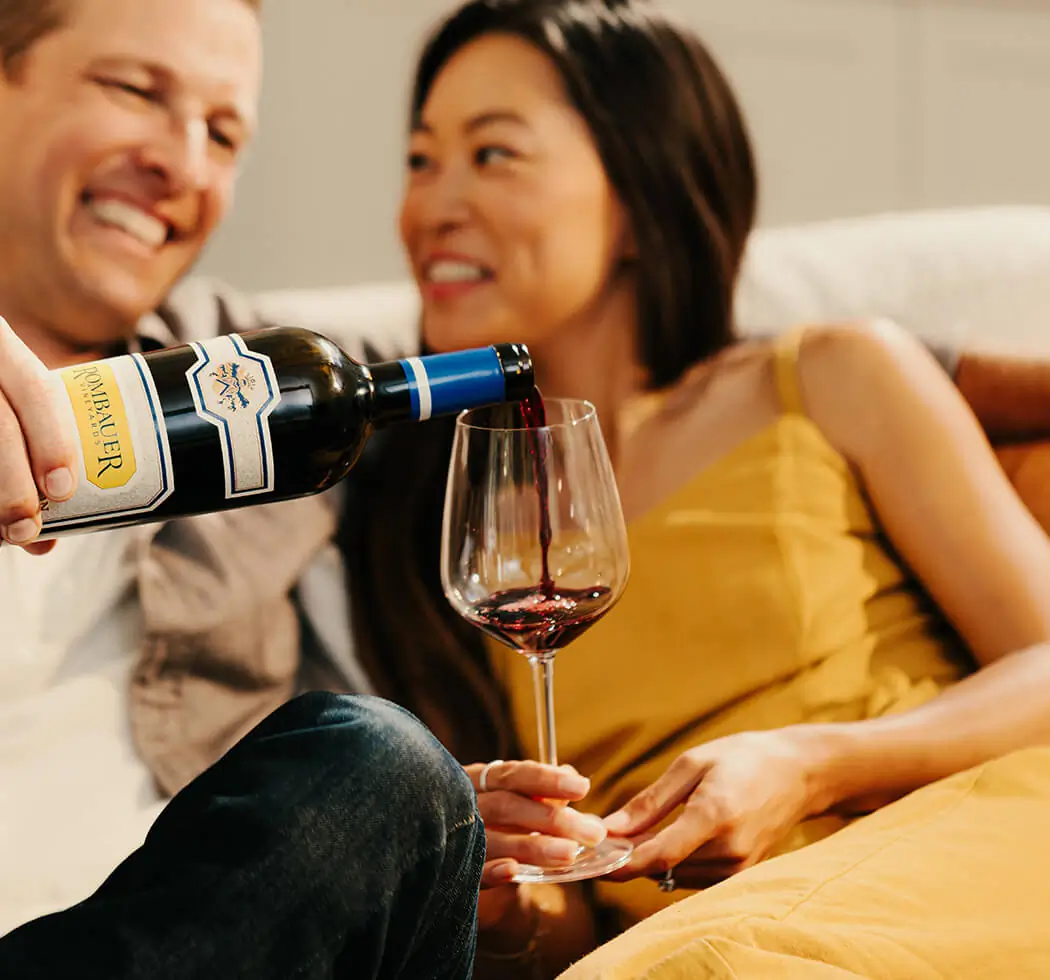 Gift a Wine Club Membership
Give the gift that keeps on giving!
Consider our Wine Club for the ultimate Rombauer wine lover in your life. Delivered directly to your door, pick your favorite variety or simply select our Classic club for a mix of wines. Plus Club membership comes with perks like access to exclusive wines, preferential pricing, invites to Club events, complementary tastings at our wineries, and more. Gifts-to-self are also encouraged 😉
Explore our Wine Clubs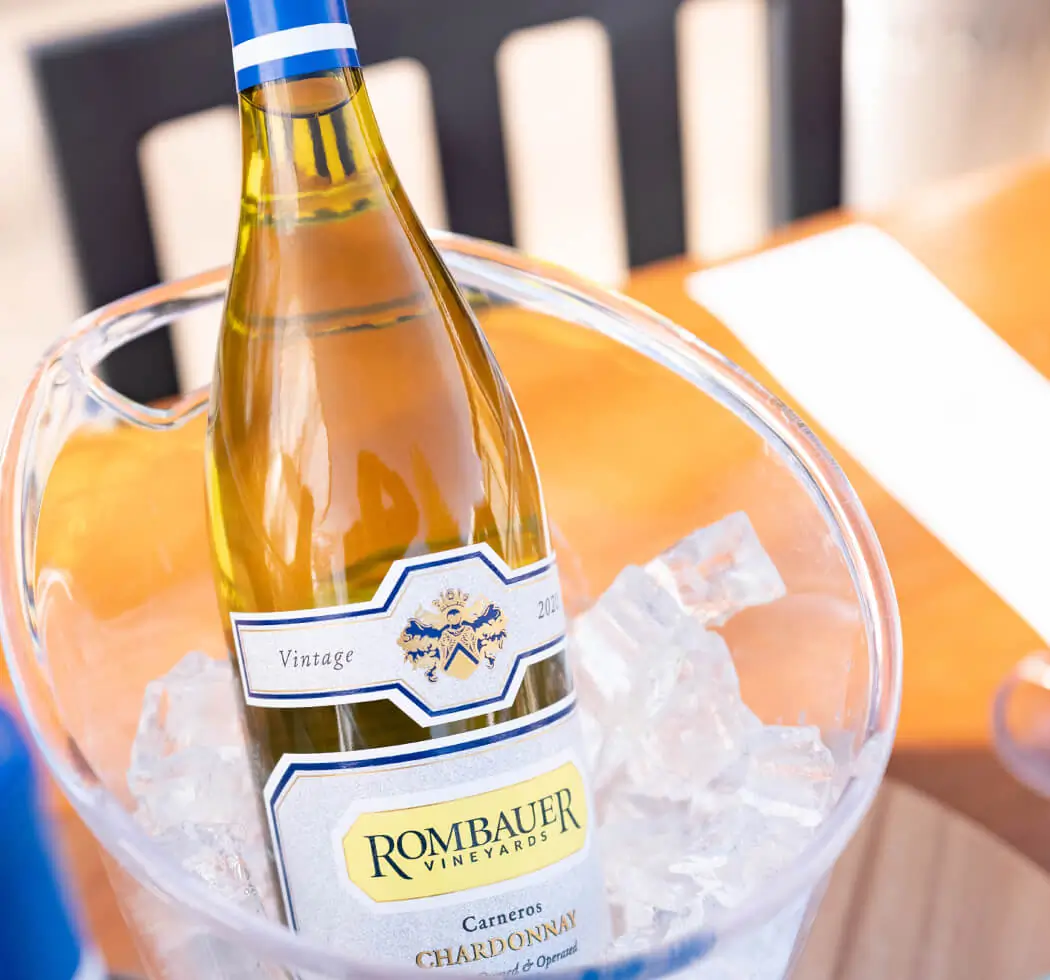 Set Up a Chardonnay Subscription
Keep your cellar full of Rombauer with this subscription service. Simply select your frequency of every one, two, or three months and have six bottles of Chardonnay delivered right to your door. You are always welcome to add or change bottles but this service ensures you can always reach for Rombauer.
More Information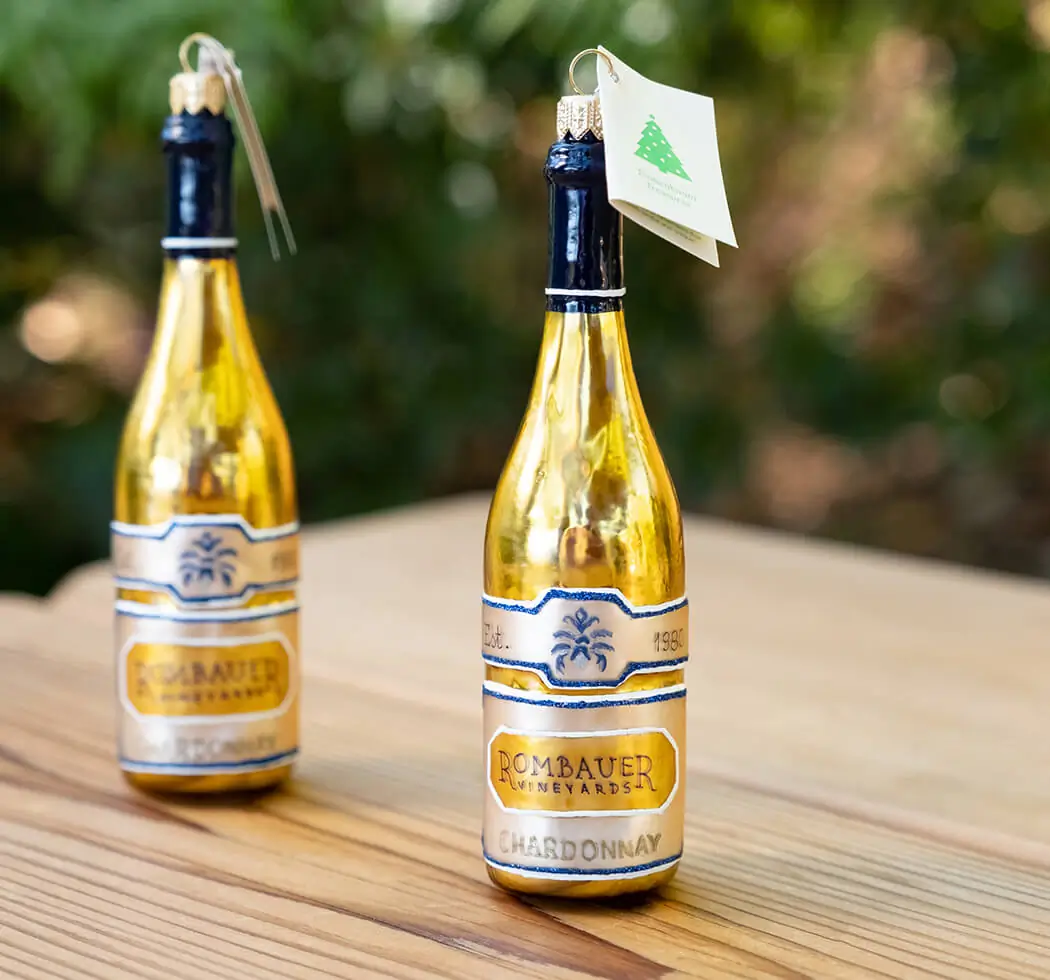 Chardonnay Glass Ornament
Bring JOY to your tree this year with a Rombauer Chardonnay glass ornament. Hand-painted in Poland, these make fabulous gifts for any Rombauer lover in your life.
Order an Ornament