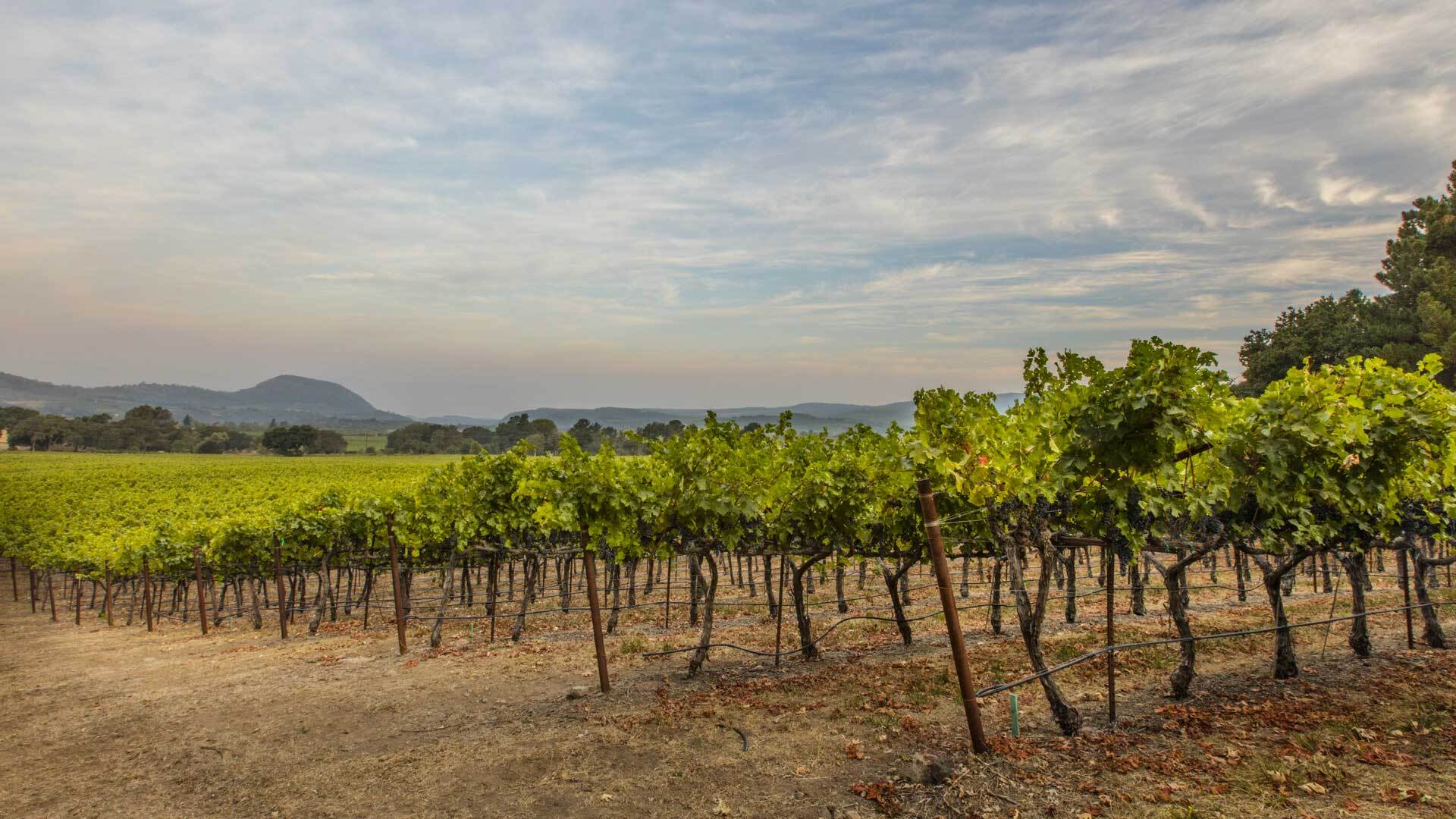 The Joy of Cabernet
Introducing Our Cabernet Allocation Program
Rombauer's Le Meilleur du Chai and Single Vineyard Cabernet Sauvignons from Stice Lane and Atlas Peak are some of the finest wines we produce.
Sourced from meticulously farmed estate vineyards and further culled in the cellar, these are rare reserve bottlings, highly regarded among key wine critics. Due to increasing demand and limited quantities of these special wines, we have decided to offer them via allocation each year in March when we release new vintages after additional aging time in our cellar.
Cabernet Sauvignon was the very first wine Rombauer produced as it was Koerner's favorite wine. Napa Valley represents only 4% of all the wine produced in California, with ultra-premium Cabernets such as these representing just a tiny fraction of that percentage. True wine lovers understand their scarcity, complexity, and beauty.
Access the Allocation
If you would like access to these exclusive bottlings, please join the list below. We will contact you with access to your allotment as we approach the March release date.
Our Collection of Cabernets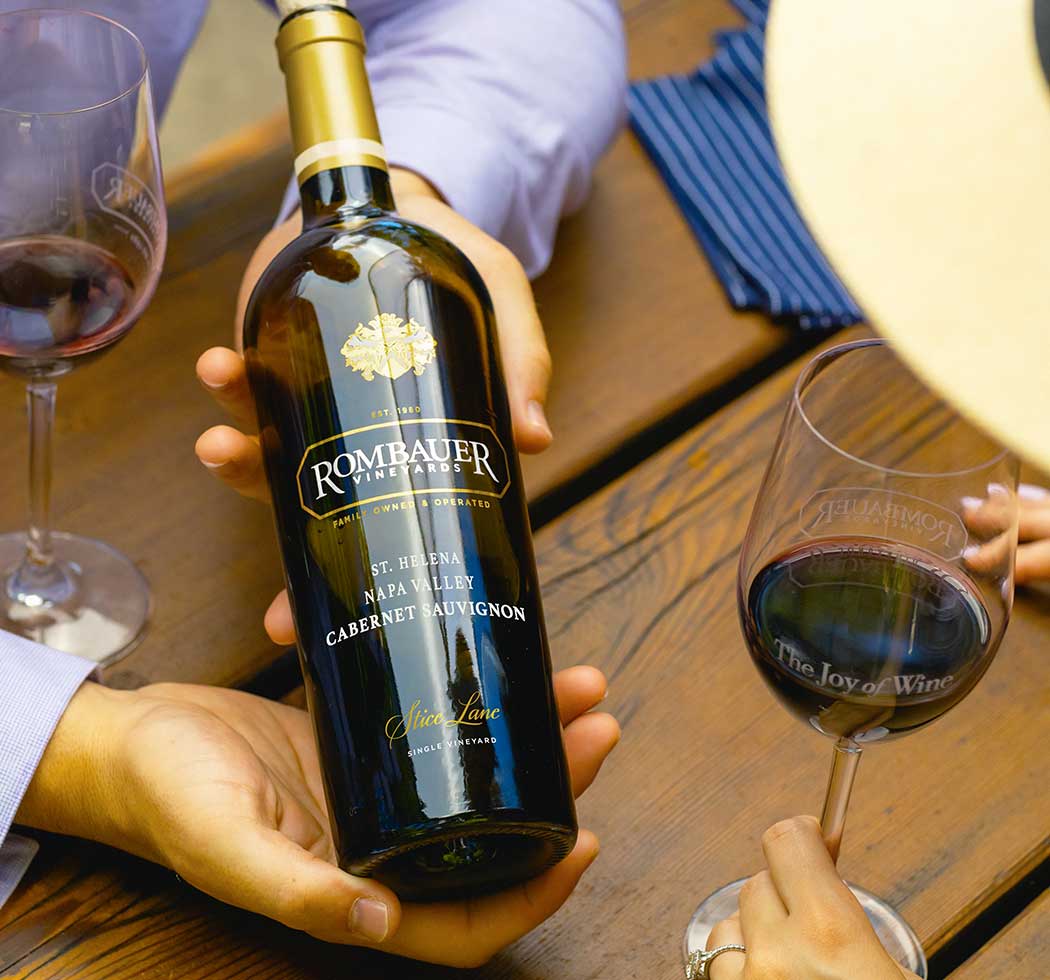 Stice Lane
Recognizing the Stice Lane Vineyard as a site capable of producing Cabernet Sauvignon with classic Napa Valley character, the Rombauer family produced their first wine from this site with the 2004 vintage. This wine was one of our founder Koerner Rombauer's favorite wines and remains extraordinarily popular amongst our Cabernet lovers.
2017 Tasting Note
So dark when poured, this wine is almost black with a purple-redish hue. There are intense aromas of cassis, black cherry and rhubarb and spice all blending harmoniously with vanilla pie crust. The palate is concentrated and mouth-coating with more cassis and black cherry flavors which meld seamlessly with the spice and vanilla notes present from its barrel fermentation. Lush tannins round out the body and the long finish.
Harvested
Sept. 28-Oct.3, 2016
Varietal Composition
100% Cabernet Sauvignon
Average Brix At Harvest
26.3
Cooperage
16 months in 100% new French oak
https://rombauer.s3.us-west-1.amazonaws.com/tasting-icons/PDF/2016-Stice-Lane-Cabernet-fact-sheet.pdf
Download PDF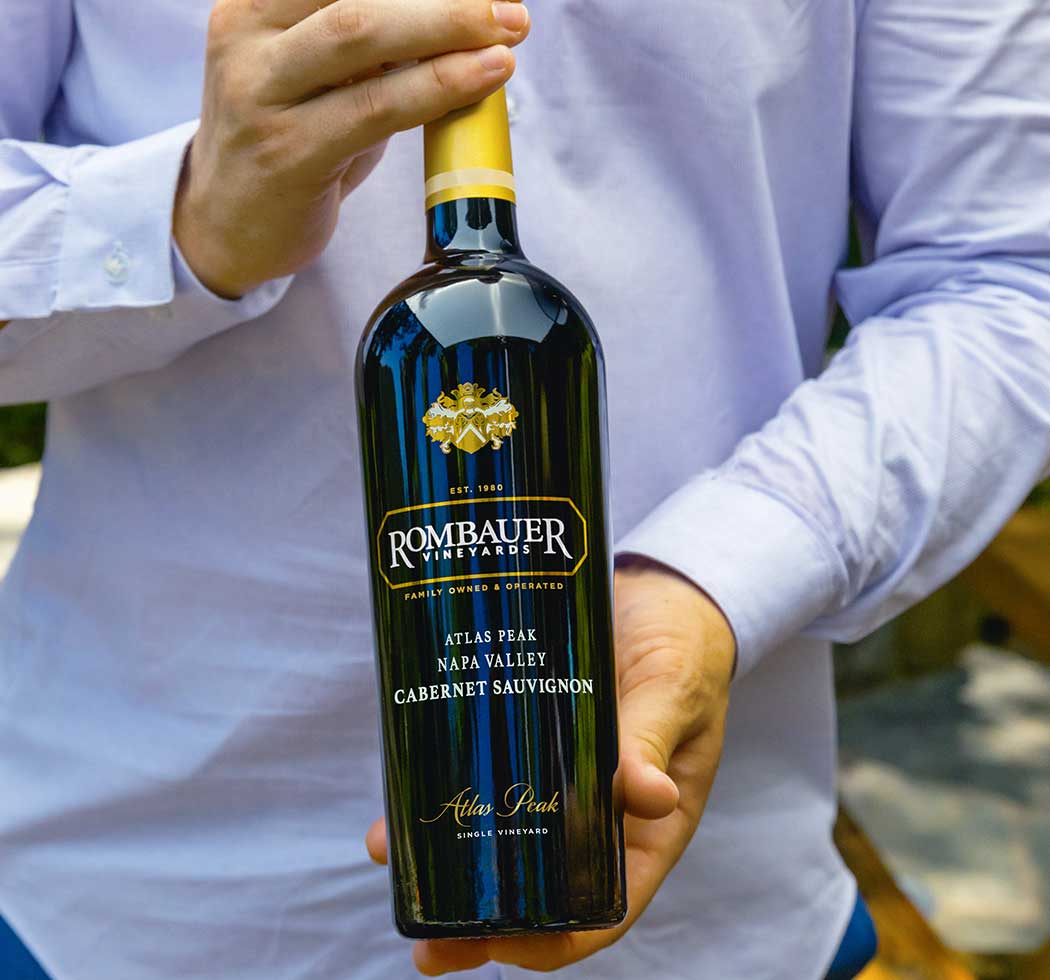 Atlas Peak
The Rombauer family produced their first single-vineyard designate from this site with the 2003 vintage. This 20-barrel blend showcases the unique character of wines from this remote, rugged site high on the hills on the eastern side of Napa Valley and is a classic example of a mountain fruit Cabernet Sauvignon.
2017 Tasting Note
Lifted aromas of cranberry and red cherry dance in the glass, backed by Christmas spice, tea and spearmint. The palate is brooding and different, with black cherry and boysenberry backed by mocha and spice notes. A rich mid palate supported by round firm tannins give way to a long, building finish that will leave you wanting more.
Varietal Composition
100% Cabernet Sauvignon
Average Brix At Harvest
26.4
Cooperage
16 months in 100% new French oak
https://rombauer.s3.us-west-1.amazonaws.com/tasting-icons/PDF/2016-Stice-Lane-Cabernet-fact-sheet.pdf
Download PDF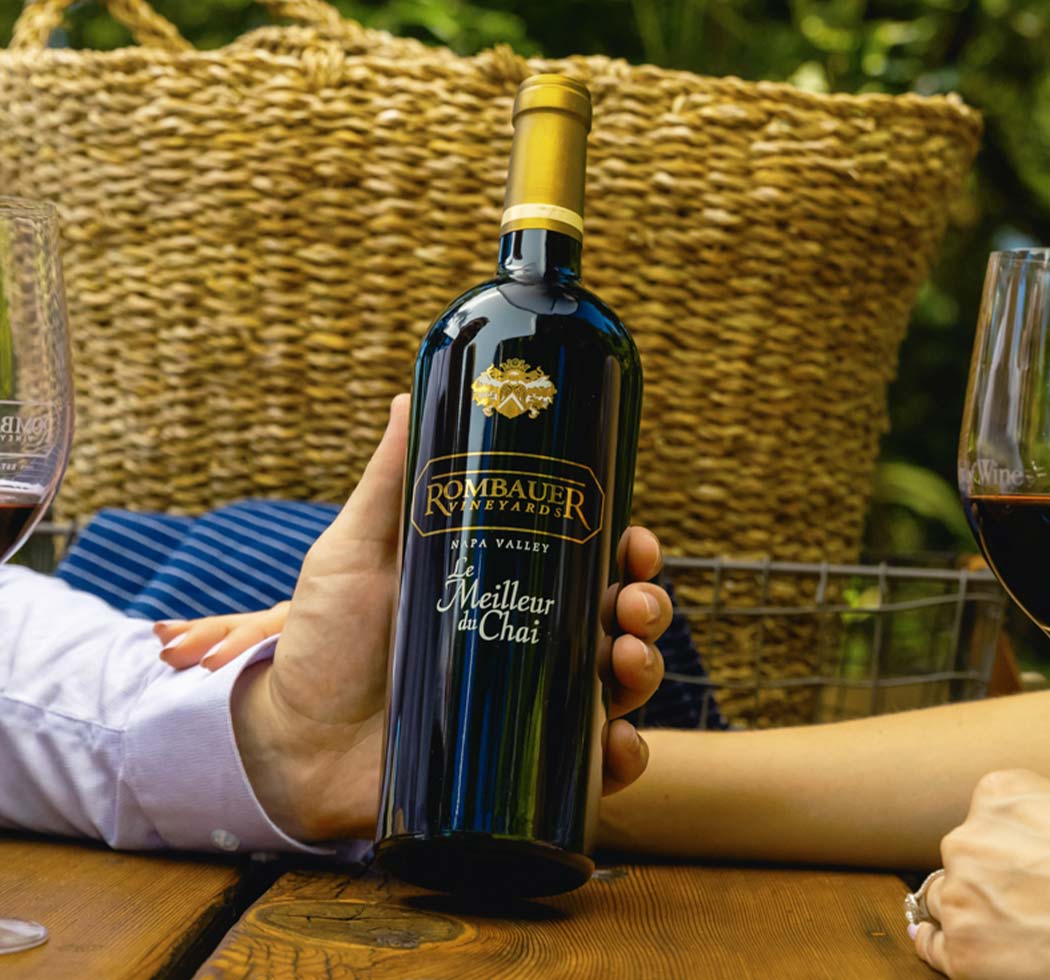 Le Meilluer Du Chai
This wine was first produced in 1983 when Koerner Rombauer and his winemaker sat down to blend their third vintage of wine. As they tasted through the lots, they realized certain barrels had a power and elegance distinct from the rest. They carefully chose those to blend and bottle separately, deeming them Le Meilleur du Chai which, in French, means The Best of the Cellar.
2017 Tasting Note
Complex and intense aromas of black cassis, cigar box tobacco and spice are followed by freshly baked pie crust. Elegant and refined yet possessing great depth, these aromas follow through on to the palate where the flavors are framed seamlessly by rich, lush tannins. The finish continues to build long after a sip has been taken making this one of our most memorable wines.
Harvested
Sept. 27-Oct. 10, 2016
Varietal Composition
95% Cabernet Sauvignon, 5% Petite Verdot
Average Brix At Harvest
26.1
Cooperage
16 months in 90% new French oak
https://rombauer.s3.us-west-1.amazonaws.com/tasting-icons/PDF/2016-Stice-Lane-Cabernet-fact-sheet.pdf
Download PDF
Winemaking Starts in the Vineyard
Atlas Peak
Our Atlas Peak vineyard is one of our highest elevation vineyards at 1,600 feet, western facing and well above the fog line with cooler temperatures than the valley floor but full sunlight throughout the day. Its low-vigor soils mean the vines work hard for water and nutrients, sending energy to fruit production rather than vegetation and producing small berries with intense flavor.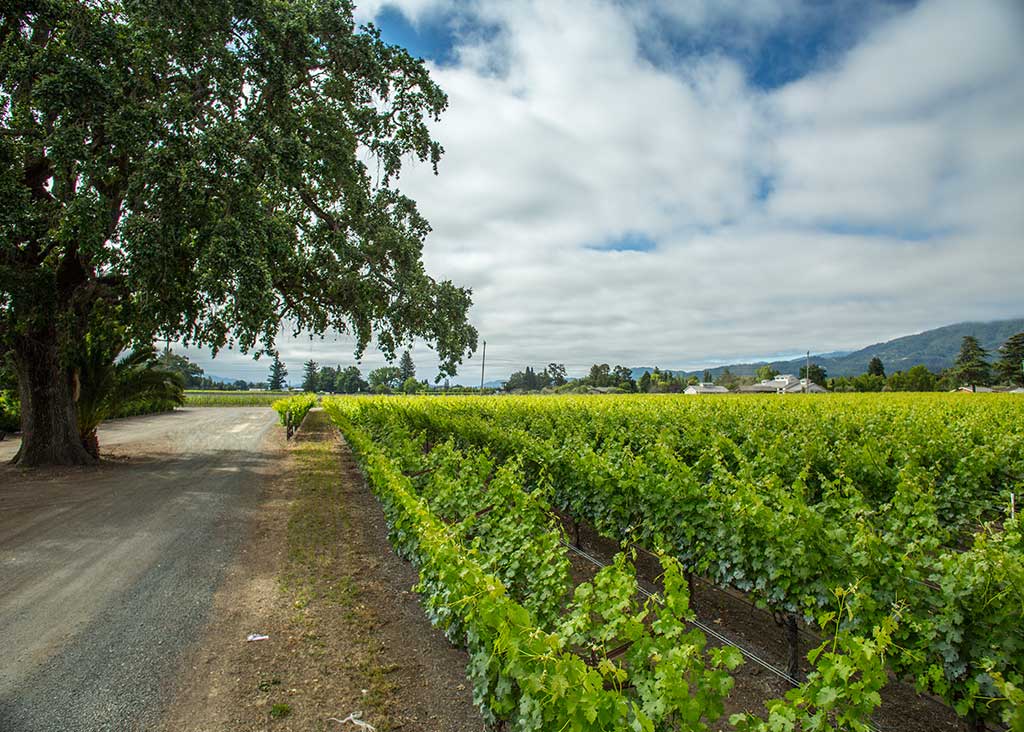 Stice Lane
This venerable vineyard in the southern part of the St. Helena AVA sits on a former riverbed, where the rocky soils are ideal for growing classically-structured Cabernet Sauvignon. This 20 acre vineyard is the hottest point in Napa Valley, this vineyard produces fruit which is dense, lush, and powerful.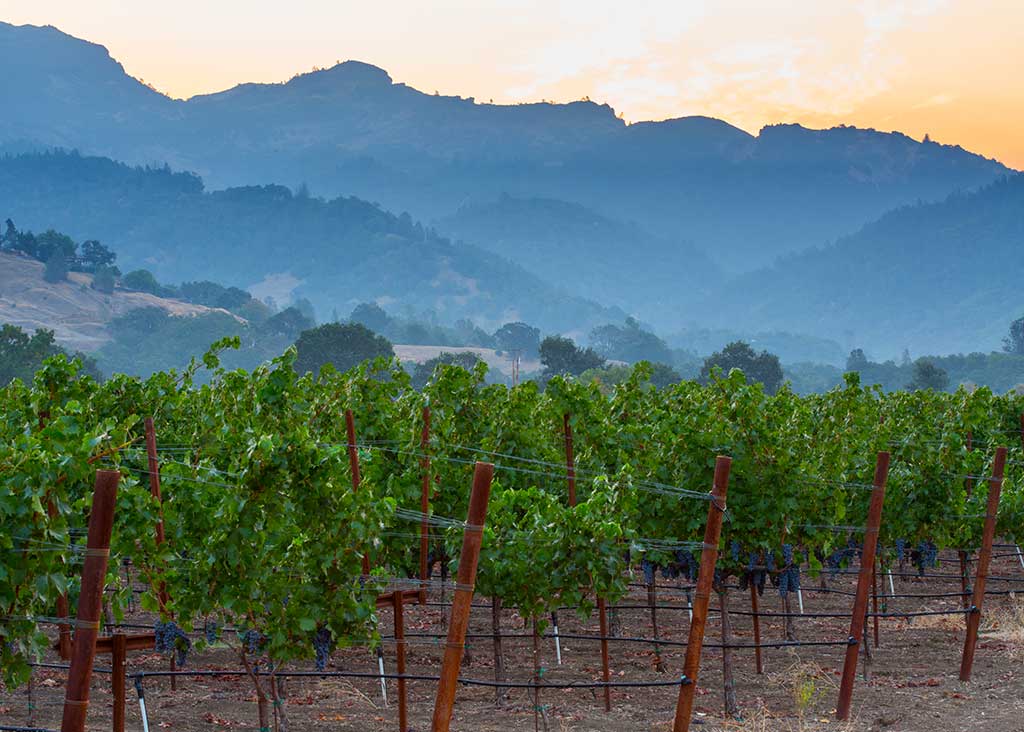 Bennet Lane
Located in the northern part of the Calistoga AVA, our Bennet Lane vineyard is home to some of the best Cabernet in Napa Valley. Selected rows are blended into our Le Meilleur de Chai, contributing to its texture and weight.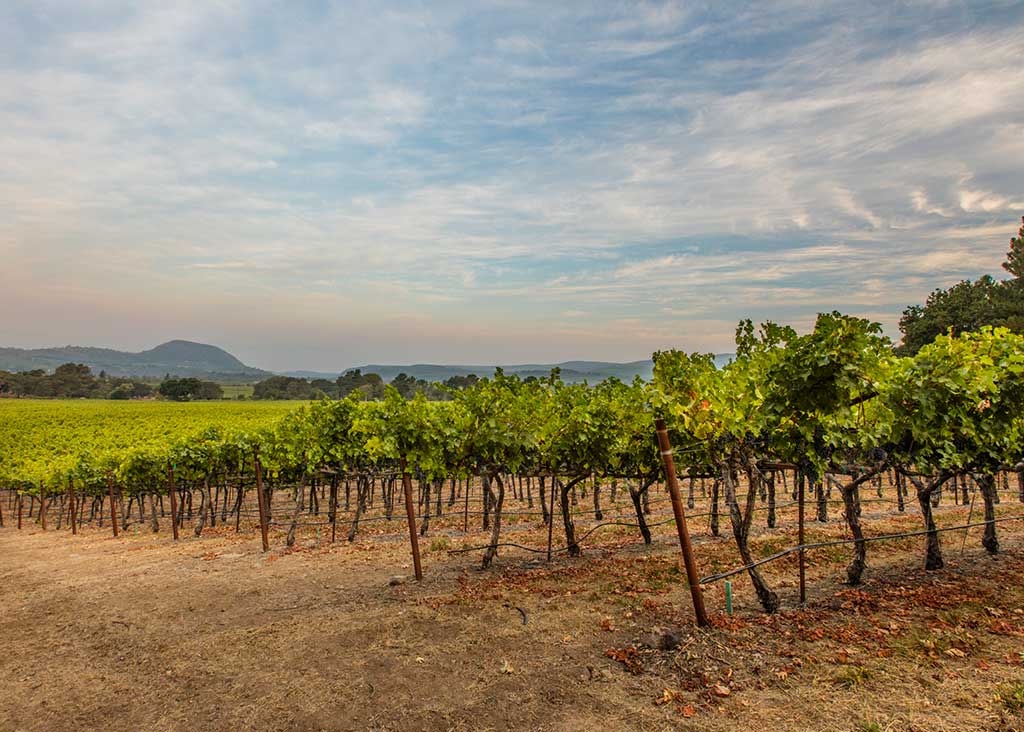 Atlas Peak
Though the Atlas Peak vineyard is only 20 acres, we usually pick this vineyard in seven passes due to the complexity of its terrain, irrigation system and ripening pattern. This vineyard is in a highly desirable neighborhood, looking out over a veritable "who's who" of Napa Valley vineyards.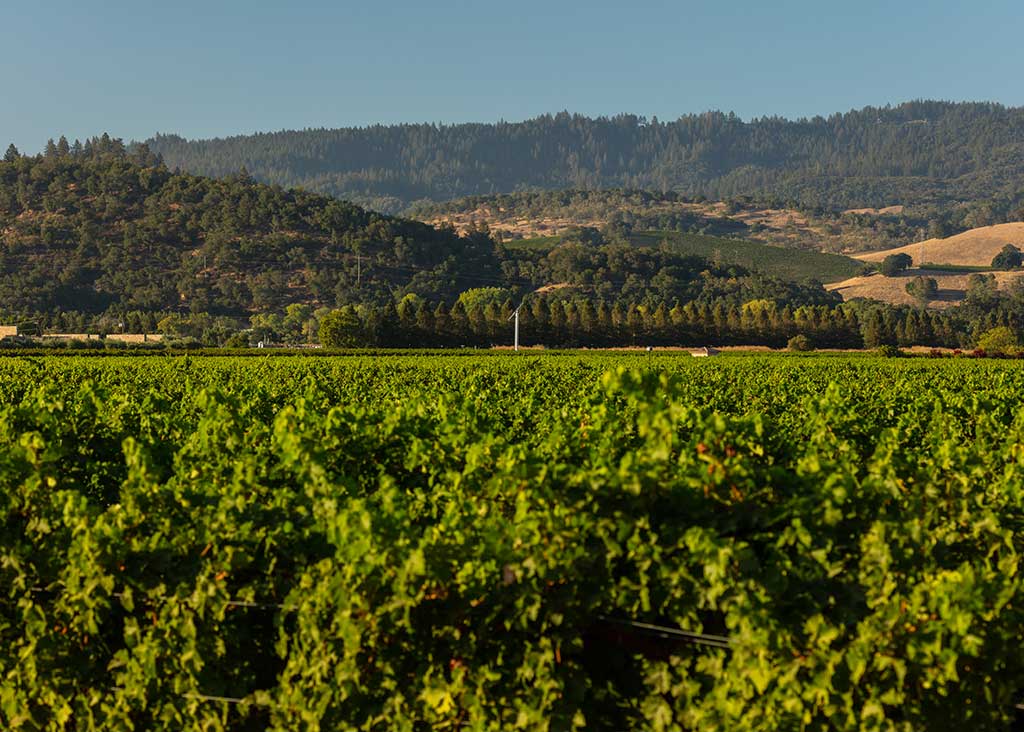 Stice Lane
We purchased our first grapes from this site in 2004. The quality of the fruit was so impressive that Koerner Rombauer bought the vineyard in 2005. Its older C and D blocks are considered by Winemaker Richie Allen to be among Napa Valley's finest.
The Intersection of Art and Science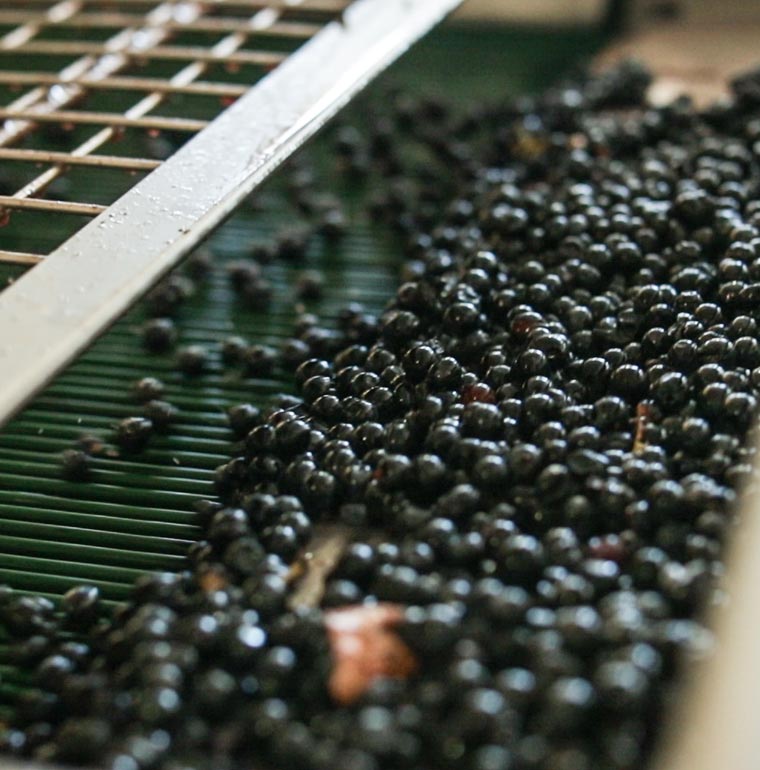 Optical Sorting
An example of our commitment to innovation and quality, this machine takes a photo of every single berry to confirm they match our standard for fruit. Berries which don't, whether they are too small or too large, are separated and sent to compost, ensuring only the best fruit goes into these Cabernets.
Barrel Fermentation
One of the hallmark distinguishing factors in the winemaking process of these wines is that all fruit goes into barrel for fermentation. This process, manual and time-consuming, creates wines that are richer, have higher definition of fruit and feature a better integration of oak to create a seamlessness on the palate.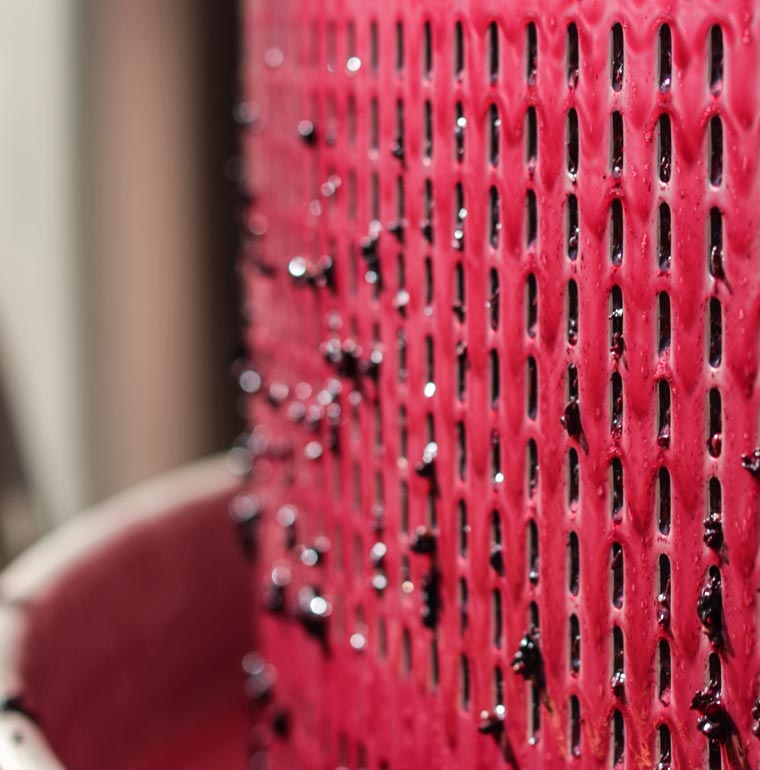 Basket Pressing
Once the wine has finished fermentation, it is drained off and the remaining fruit transferred to traditional basket presses. This process, used for centuries, is used to extract the remaining wine from the skins.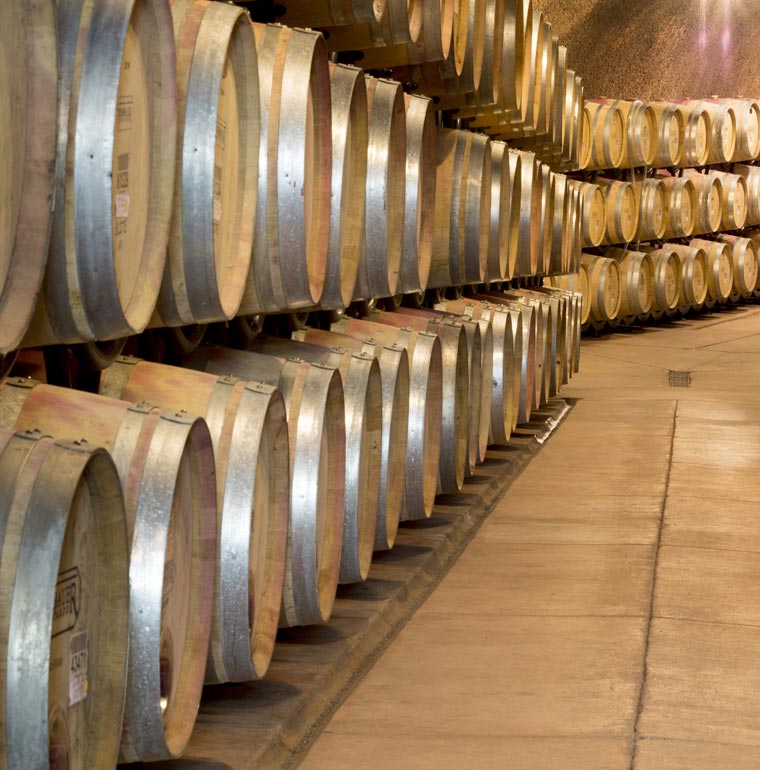 Barrel Aging
The wines are then transferred to barrels to age where the years spent aging in our caves creates a seamless integration of fruit and oak. We age them for longer than many of our Napa Valley peers, ensuring the additional time imparts the structure and depth we expect and appreciate in these Cabernets.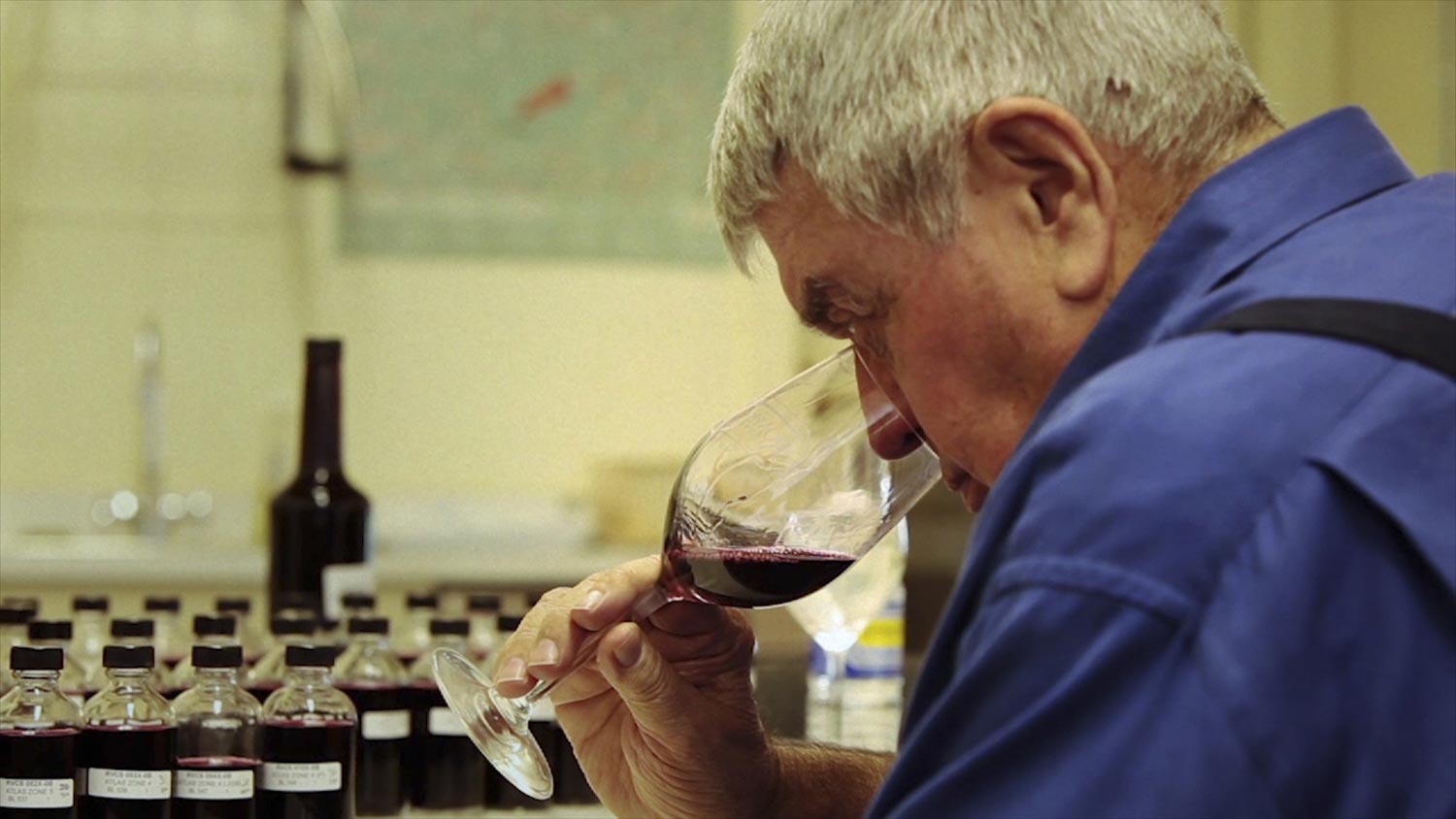 "The magic of winemaking is that you create something with your own hands, from your own piece of earth, that lasts for years." - Koerner Rombauer